Dr. Loughlin Sweeney secures research collaboration with the University of Edinburgh
Writer : Dr. Hasan TINMAZ
|
Date :
2018.11.03
|
Hit : 4,215
Endicott College's Loughlin Sweeney has been invited to the University of Edinburgh as a Visiting Scholar, securing Endicott College another high-profile research collaboration with a world-leading institution.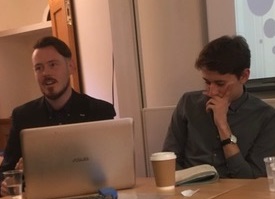 Dr. Sweeney will be working with the Irish History Research Group and its coordinator, Professor Enda Delaney, on his project 'Closing the Circle: Atypical Irish Diasporas in the Pacific World'. The project brings together for the first time historical sources from Korea, China, Australia, Canada, the US, Ireland, and the UK, to trace the history of the global Irish in East Asia and the Pacific in the second half of the nineteenth century.
The University of Edinburgh is one of the world's leading universities, consistently ranked in the UK top ten, and currently ranked 29th in the world for research. Among its many strengths it is an internationally excellent center for the study of Irish history and transnational history.